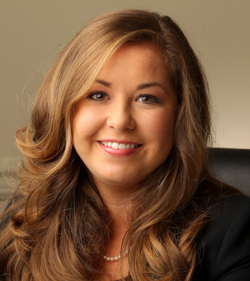 September 20, 2017 – (Greenville, SC) Bell Carrington Price & Gregg, LLC (BCPG) attorney, Annah Toates, has been selected to Greenville Business Magazine's 2017 Best & Brightest 35 and Under. Toates is one of 36 young professionals recognized by the magazine this year.
Now in its 24th year, the Best & Brightest program was created to recognize young professionals for their professional and community contributions. Honorees are selected based on community service and professional achievements.
"We're excited to see Annah recognized as one of Greenville's best and brightest," said Griffin Bell, founding partner and 2011 recipient of Best and Brightest distinction.  "Annah's volunteer work demonstrates a strong commitment to the Greenville community."
Since joining BCPG in 2015, Toates' practice has focused primarily in residential real estate, where she seeks to provide efficient, streamlined, and enjoyable closings. Buying or selling a home is a major investment and Toates insists on providing each client with a personalized and memorable experience. When not at the closing table, she assists clients with contract review, entity formation, estate planning, and development matters.
Toates' commitment to the local community is demonstrated in her partnership with Homes of Hope, a local organization focused on affordable housing and men's development. In an effort to intentionally connect her career to her support of the Greenville community, she makes a contribution from the proceeds of each real estate closing to the organization.
Toates is also an active member of United Way, a Furman University Young Benefactor, and serves as a board member of Sterling Hope Center in Greenville.
---
Established in 2010, Bell Carrington Price & Gregg, LLC (BCPG) is a full service law firm with offices in Greenville and Columbia, South Carolina and Charlotte, North Carolina.  The firm represents businesses and individuals in a range of diverse legal matters in the Carolinas and the Southeast.  Core competencies include business and finance, real estate transactions, creditor's rights, general litigation, real estate finance and title insurance defense. Clients include financial institutions, manufacturing companies, real estate developers and professionals, churches, entrepreneurs, small business owners and individuals.